Bordeaux, France
A full-day tour to nearby wine chateaux is the most popular shore excursion in this city. A city tour is also a good choice, visiting the historic buildings of the Bourse, the Girondin monument and its horse fountains, the Grand Theatre and the Cite Mondiale du Vin for wine and shopping.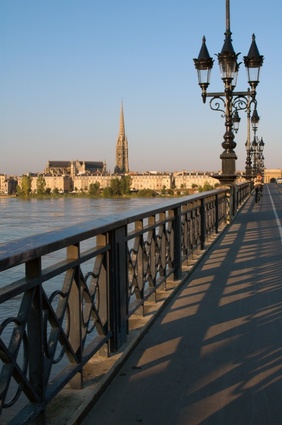 Language: French
Currency: Euro (EUR)
Driving Directions and Parking Information
Port Médoc
Anse de la Chambrette, 33123
Le Verdon-sur-Mer, France
Port Médoc is located approximately an hour and a half from Aéroport de Bordeaux-Mérignac.
Leave the airport through Rue Rene Cassin, then turn left onto Rue Caroline Aigle and left onto Cite Maurice Bastie/Rue Rene Cassin. Follow Rue Rene Cassin to the roundabout, take the 3rd exit towards Avenue de Beaudesert/D213 heading to La Haillan/St Medard/Lege Cap-Ferret. Follow the roundabouts towards D213 and Chemin du Phare, then towards D211. Keep heading towards D211 through the roundabouts until you reach the roundabout that has an exit D1215 towards Saulaunes/Lacanau, and take that exit. Continue straight to follow D6, then take the D104 exit. Turn left onto Route de Brach/D104 and continue to follow D104 for 8.5km. Turn left onto Route de Carcans/D207 (signs for Carcans/Lacanau/St Laurent). Sta on D207 until you hit the D3 exit and follow D3 for 12km. Turn left onto Place de l'Eglise/D4 (signs for Vendays-Montalivet) then turn right onto Place de l'Eglise/D101. Continue to follow D101, then turn left onto Rue de la Cote d'Argent/D101. Keep following D101, then after 17km, take the 2nd exit onto Route de Lesparre/D102 for 4km. Turn left onto D1215, drive 24km, then take the 3rd exit onto Rue Henri de Bournazel/D1215. Continue on D1215 for 1.5km, then turn right onto Allee de Declide, then right onto Boulevard de la Sterne, and finally a right onto Allee des Avocettes. Your destination will be on the left.
Bordeaux, France Weather
Jan
Feb
Mar
Apr
May
Jun
Jul
Aug
Sep
Oct
Nov
Dec
High
49
52
57
61
67
73
79
79
74
64
56
50
Low
36
38
40
43
50
55
59
59
54
48
41
38
Jan
Feb
Mar
Apr
May
Jun
Jul
Aug
Sep
Oct
Nov
Dec
High
9
11
14
16
19
23
26
26
23
18
13
10
Low
2
3
4
6
10
13
15
15
12
9
5
3
Jan
Feb
Mar
Apr
May
Jun
Jul
Aug
Sep
Oct
Nov
Dec
Inches
3
3
3
3
3
3
2
2
3
3
4
3
Centimeters
8
8
8
8
8
8
5
5
8
8
10
8
Jan
Feb
Mar
Apr
May
Jun
Jul
Aug
Sep
Oct
Nov
Dec
Percent
93
92
91
90
91
91
91
92
93
94
93
92