Warnemunde, Germany
Passengers are usually taken by train from the port of Warnemunde to Berlin, 150 miles southeast, but the resort town offers a seaside promenade, white-sand beach and beer gardens.
In Germany's capital city, visit the Berlin Wall Memorial to see the surviving portion of the barrier, then head to the Brandenburg Gate, which has come to symbolize the city's reunification. Most tours stop at Charlottenburg Palace, situated amid an expansive garden, as well as Bebelplatz square, home to Humboldt University, the State Opera House and an underground installation that honors the authors who were silenced when Nazis burned their books in 1933. Learn about the Holocaust at a memorial to the lost Jews of Europe, and revel in more than 6,000 years of history in the five museums on Museum Island. After browsing the shops along Kurfurstendamm boulevard, duck into a pub for a bratwurst and beer.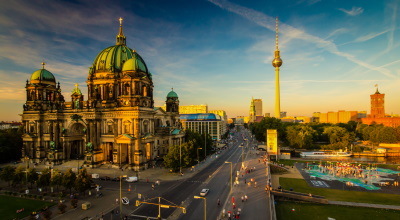 Language: German
Currency: Euro (EUR)
Driving Directions and Parking Information
Cruise Terminal P-8
Am Passagierkai
D-18119 Warnemunde
Germany
Hamburg to Warnemunde driving directions: Drive 70 miles via highway A20 until exit number 14. Follow the state road B103 for 12 miles until you arrive in Warnemunde. Berlin to Warnemunde driving directions: Drive 110 miles via highway A19 and take exit B105 to Warnemunde. Drive another 3 miles until exit B103/Rostock-Nord and you'll arrive in Warnemunde.
Warnemunde, Germany Weather
Jan
Feb
Mar
Apr
May
Jun
Jul
Aug
Sep
Oct
Nov
Dec
High
35
39
47
54
65
70
73
73
66
56
45
38
Low
26
27
33
37
45
53
56
55
50
42
35
30
Jan
Feb
Mar
Apr
May
Jun
Jul
Aug
Sep
Oct
Nov
Dec
High
2
4
8
12
18
21
23
23
19
13
7
3
Low
-3
-3
1
3
7
12
13
13
10
6
2
-1
Jan
Feb
Mar
Apr
May
Jun
Jul
Aug
Sep
Oct
Nov
Dec
Days
23
18
20
16
15
19
18
17
17
17
22
23
Jan
Feb
Mar
Apr
May
Jun
Jul
Aug
Sep
Oct
Nov
Dec
Percent
89
90
88
84
78
79
80
84
89
90
89
89